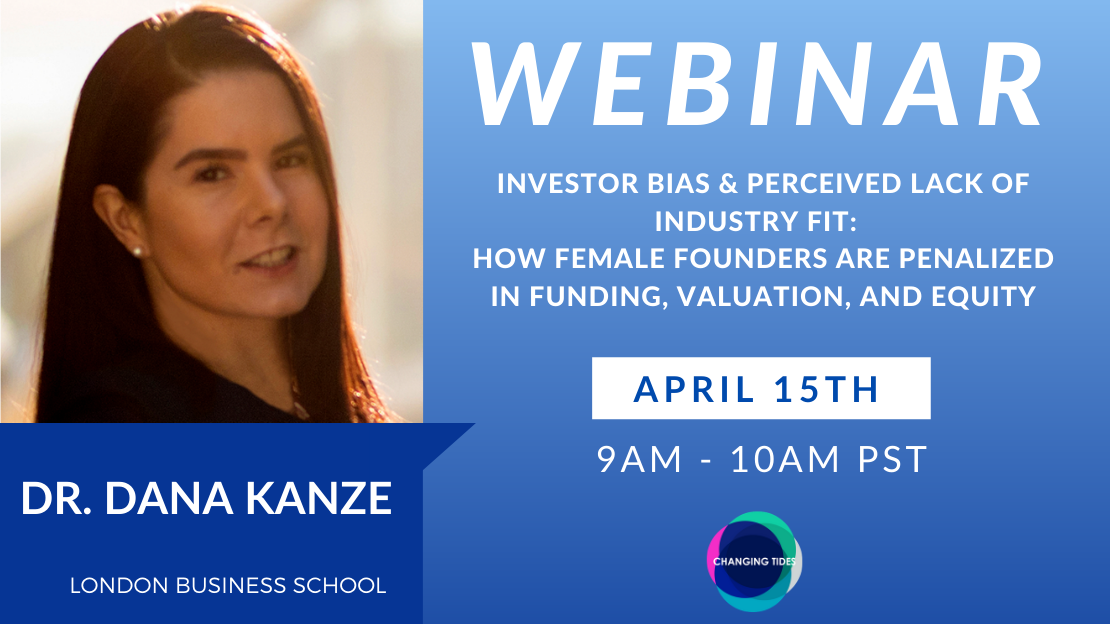 How Female Founders are Penalized in Funding, Valuation, and Equity
Join us for a workshop led by Dr. Dana Kanze, Assistant Professor of Organisational Behaviour, London Business School
We know that female founders can actually outperform their male counterparts on a variety of KPIs when catering to male-dominated industries, so why is it so difficult for them to secure the funding they need to serve these sectors? Dr. Kanze will answer this question with her new research on how perceived lack of industry fit leads investors to penalize female founders in funding, valuation, and equity, and how investor sophistication may help reduce gender bias.
The key finding: Female-led ventures catering to male-dominated industries receive significantly less funding at significantly lower valuations than female-led ventures catering to female-dominated industries. For instance, a female founder is likely to experience significantly worse funding-related outcomes if she is raising capital for a fintech venture (e.g. a cryptocurrency play) than for a fashiontech venture (e.g. a wearables play). In contrast, male-led ventures attain similar funding and valuation outcomes regardless of the gender dominance of the industries they're serving.
What you'll learn:
⦁ How to recognize and combat this bias when looking for funding
⦁ How investors can take steps to combat this bias from creeping into their decision making.
⦁ What public policymakers can do to help reduce the bias in early-stage venture decision making.
Additional Resources:
⦁ Read about Dr. Kanze's newest research findings: Evidence that investors penalize female founders for lack of industry fit
⦁ Learn more about her research on Prevention vs. Promotion Questions: Male and Female Entrepreneurs Get Asked Different Questions by VCs — and It Affects How Much Funding They Get
⦁ Watch her TED Talk: The Real Reason Female Entrepreneurs Get Less Funding
---
Webinar is free for Changing Tides Premium and Circles members and can be accessed via the membership portal.
For those of you who are not yet members, webinars are $30. Changing Tides Premium membership is just $19/mo and gives you free access to webinars.
---
Special Guest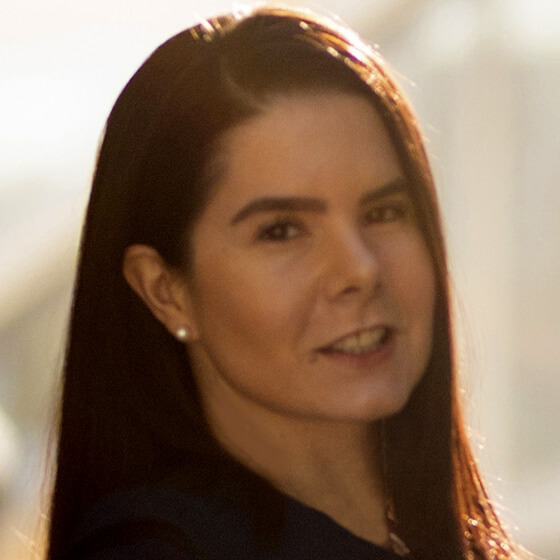 Dr. Dana Kanze
Assistant Professor of Organisational Behaviour, London Business School
Dr. Dana Kanze is an Assistant Professor of Organisational Behaviour at London Business School. Her research applies behavioural insights to understand sources of labour market inequality, spanning the areas of judgment and decision making, ethics, motivation science and entrepreneurship. Dr. Kanze's work has been published in peer-reviewed journals such as the Academy of Management Journal, Organizational Behavior and Human Decision Processes, and Science Advances, as well as in practitioner outlets such as the Harvard Business Review. Her research has been featured as a TED talk, as well as by BBC Radio, Bloomberg, Business Insider, Chicago Booth Review, Entrepreneur, Fast Company, Financial Times, Forbes, Fortune, Inc., MIT Sloan Management Review, Pitchbook, Scientific American, TechCrunch, The Wall Street Journal, and Wharton Magazine. Dr. Kanze started her career as an investment banker and strategic consultant for Citigroup and Winterberry Group, going on to co-found and run a venture-funded start-up before re-entering education. She holds a Bachelor of Science in Economics, Magna cum Laude, from The Wharton School of the University of Pennsylvania and a Doctor of Philosophy from Columbia Business School.